Our sauces are chef curated with restaurant quality taste and flavor. Each of our sauces were developed over a decade of inspired restaurant dishes and customer praise. Believe it or not, we started making sauce in our Portland, OR based food truck back in 2012. 
Our Chef and creator Erika Reagor, dedicated a decade toward international travel, exploring flavors of the world. Over 20 countries later, her sauces went from food truck and restaurant, to grocery store shelves with the hopes of landing in YOUR kitchen. Our vision is simple. Bring restaurant flavors with ease into the comfort of your home kitchen. 
Our vision however, did not stop there. Nope. We have taken our sauce game to the next level with our ingredients. Namely the ingredients that are not found in our sauces. We decided that everyone should have access to delicious sauces regardless of allergies or dietary preference. 
We are proud to offer a line of sauces that are certified gluten-free , plant-based and vegan, nut-free, keto friendly, rancid seed oil free and most are soy-free (Sesame Satay and Sweet Chili Lemongrass contain soy).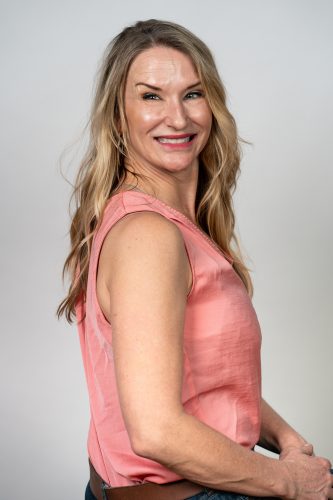 The Early Days
I began my love for culinary arts during my senior year of high school in a Cooking and Pastry Class.
After graduation, I worked in the restaurant and catering industry for a few years until I discovered my love for nutrition. I attended Bauman College for Holistic Nutrition in Berkeley, CA and furthered my education at the Institute for Integrative Nutrition in NYC.
Once I graduated, I opened a practice for nutrition counseling, cooking classes and cleanses. During my free time, I delighted in my love for travel, where I thrived in seeking out international culinary flavors and new experiences. After 10 years of running my nutrition practice, I closed shop to pursue my dream of going to Culinary Arts College to become a full-time Chef.
Thrive Sauce and Bowls
I graduated from Le Cordon Bleu in 2012 and went on to open a food truck called Thrive Sauce and Bowls. We offered a selection of rice and noodle bowls with farm to table vegetables and housemaid sauces. It was during this time that my sauces won a competition and were discovered by New Seasons Market to be placed on their grocery store shelves.
I went on to open a restaurant and developed a complete line of internationally inspired, plant-based and gluten-free sauces that continue to "Thrive" to this very day.
Sadly, but necessarily, at the end of 2019, I sold my restaurant and food truck to fulfill the needs and demands of being a new mom.
MOB Sauce is Born
Covid came and with it I was able to focus fully on the growth of my sauce company through online sales and grocery store shelves.
Once things began to open again, I began to do events and trade shows. It was at a festival that a professor from George Fox University approached me after tasting my sauces and asked me if she could bring my sauce line into her classroom for rebranding. She saw potential in my sauces but knew the current name and packaging was not going to elevate me to the next level of growth I was seeking.
And so, MOB sauce was born. I am forever grateful for their guidance, handwork and passion leading to the rebirth my sauces and brand.